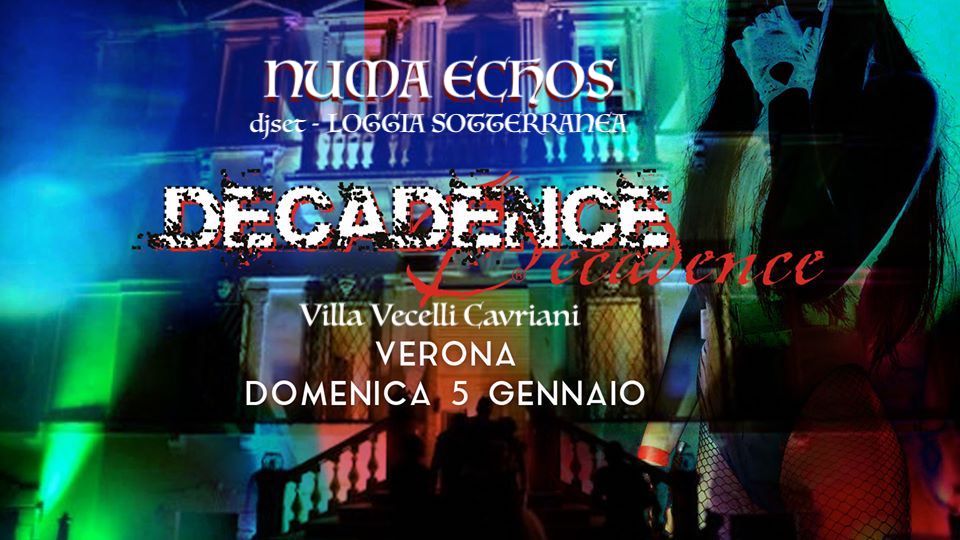 ->PRIVATE EVENT <-
Sunday 5th Jenuary 2020 – h. 10.00 p.m. – 06.00 a.m.
⚜DECADENCE in Villa | Verona ⚜
Located in an ancient environment, the Villa is an elegant historical residence of seventeenth century origin. In the second half of the eighteenth century this villa was taken over by the previous property that immediately wanted to create a sumptuous building similar to the villas of the time. During the Austrian domination, the building was used first as a barracks and later as an hospital. The Villa was abandoned and just in 2017 it was restored to its original splendor.
| 12 AREAS | LIVE ENTERTAINMENTS | RARE VIDEOS | ART EXPO |INTERNATIONAL GUESTS | BOUDOIR & RELAXING AREA | SHIBARI SHOWS | POETRY | PLAY AREA | TAROT READING | FIRE-EATER & JUGGLERS SHOW |ART PERFORMANCES | MAKE UP AREA |
♛WHITE LOUNGE ♛
Marco Archi – live violin
♛ UNDERGROUND LOGGIA ♛
MUSICHE D'APERTURA
classical and baroque music
goth, wave & '80's music
VALENTINE [decadence]
EMY [night breeze]
WHIPPING BOY [dark'n'wave]
PHERDI [dance of youth]
NUMA ECHOS
♛ BLACK LOUNGE ♛
INTRO: darkambient, folk and ethereal music
hang drum live & body modification- LUNAKYA | VODEVIL
electro, industrial, ebm
TYING TIFFANY [decadence]
JEEZ KULT [das lust]
THE DROP DJ
GABRIEL MANN
♛ UNDERGROUND DUNGEON ♛
bdsm | equipments | shows | latex
Operators:
KRAIAN VON SWITCH [Decadence]
RUBBERSTAR [Decadence]
CELEBRITY SKIN & VLADI – dungeon door selection
ALE GIACON [decadence]
FRANCO GILLI [coven]
MATTIA COVEN [coven]
♛ DIVINITY ROOM ♛
worship sessions & equipment
mistress – t.b.a
♛ BOUDOIR & RELAXING AREA ♛
FEDERICA CELEBRITY [Decadence]
ANDREA J'ADORE [Decadence]
♛PERFORMANCES & ENTERTAINMENTS ♛
SHIBARi SHOW – Jo Darkrope
TRAMPLING – Ariel
LIQUOR SHOTS – Maddalena Genta
USHER – Morgana Desdemona
LOBBY MANAGER – Valeria Casini
TAROT READING – Manuela Rossi
DOOR SELECTION – Erykah Eka
GUEST LIST – Emily
PHOTO REPORTERS
Official photographer – t.b.a
NO PHOTOS – NO USE OF MOBILE PHONES!
AUTHORIZED PHOTOGRAPHERS ONLY!
DOOR SELECTION – STRICT DRESSCODE
Event with door selection, the public itself is the protagonist of the event. Cloakrooms will be available.
Mood/outfit: gothic baroque newromantic dandy blackelegant moulinrouge esoteric steampunk freak fantasy fetish postpunk perv glam latex bdsm rubber bears bodyart rockabilly drag trav real80 bizzarre burlesque raver bbw animalia peluche enlightened cyberfreak
NO CASUAL STREET WEAR!
▪️ALL AREAS WILL BE CONNECTED BY ELEVATOR AND CONVENIENTLY ACCESSIBLE
⚜⚜⚜⚜
PRACTICAL INFORMATION
Villa Vecelli Cavriani
Via Caterina Bon Brenzoni, 1
37060 Mozzecane – Verona (VR)
📍Reservation of affiliated rooms Decadence
✆ 0456340820
infoline
✆ +393472855823 +39 3387736242
www.decadence.cc
☛ This event is 18+
Facebook Link: https://www.facebook.com/events/604038680370411/