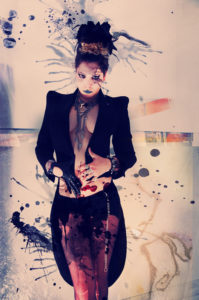 NUMA ECHOS moves between poetry, music, artistic photography and painting .
She began writing poetry at the age of 3-4 years and later collaborated with his own writings to the creation of anthologies such as "Sono bella ma non è colpa mia: l' inconvenienza dell' avvenenza" and "Teorema del corpo: donne scrivono l'eros" (Fusibilia Libri, 2014 and 2015).
Mixing texts, experimental-alternative music, gestures and visual projections, she realized the musical poetic show "Sogni di lucida- mente: allusioni e rivelazioni di un io follemente sano", already presented in various important cultural contexts, including:
"Terre Vulnerabili – A Growing Exhibition", Hangar Bicocca, Milano;
"Step 010", Annual Exhibition of Contemporary Art, Museo della scienza e della tecnologia, Milano
"Miniera" – Futurizzonti in festa – "Shit Surfing Day", workshop -event, Politecnico Bovisa, Milano;
Bicinuragica 2013 e 2014 – itinerant edition concerning poetry and cycling edited by Ugo Magnanti and Fusibilia Edizioni.
Thanks to the depth and humanity of her writings Numa Echos has been selected among the ten finalists for the 2009-2010 competition Creamusica at CPM (Centro Professione Musica) in Milan by the president Franco Mussida which followed the production and recording at "Alari Park Studios" in Cernusco sul Naviglio with her poem "Partendo da qui" in a poetic-musical version with also a promotional video. It was used the text "Fiori di pece" ( "Pechblumen" is the film version ) as an integral part of the music of the independent film "Ghost Track" by Fabrizio Rossetti (Tre Metri Sopra il Cielo etc.).
The editorial version of "Sogni di lucida-mente: allusioni e rivelazioni di un io follemente sano" was published in the series "Riverberi" from Caosfera Edizioni (Vicenza, 2015) with the cover note of the well known crime novelist, writer and conductor of "Mistero" – Italia 1 Channel, Andrea G. Pinketts and was presented in various contexts, even in television programs (La 7 Gold, Nuvolari TV …). In 2018 homonymous short film "Sogni di lucida-mente: allusioni e rivelazioni di un io follemente sano" (Chiesa & Partners Srl / Cremisi Video Production) was released, in which Numa Echos is an actress, director, screenwriter, composer of the soundtracks and in which Andrea G. Pinketts collaborates in his last film appearance as a leading actor.
On September 2010 the romance "Heaven: sea of heaven" was published in the series "Magnolia" from Il Seme Bianco/Castelvecchi Editore (Roma, 2019).
In February 2020 was elected winner of the 28th InternazionaleFestival of Erotic Poetry  "Baffo – Zancopè" with the text "Focale Ferocia" taken from the book "Sogni di lucida-mente: allusioni e rivelazioni di un io follemente sano" (Caosfera, 2015).
Numa Echos often came into contact with the world of sport as a cyclist and with fashion (Swarowski – Parah – Massimo Rebecchi etc.) as model maintaining, also on a professional business contest an alternative and excessive spirit.
Being also active as art photographer, his shots for the following works have been chosen:
"Milano Avvelenata" by Andrea Lux Ferre (Sille Edizioni, 2016) – Cover photo from private collection of Numa Echos
"La Capanna dello Zio Rom" by Andrea G. Pinketts (Mondadori, 2016) – Photo of the back cover by Numa Echos
She has cultivated musical studies and she has participated to various music festivals and independent rock radio programs.
She works as art director, singer and instrumentalist (keyboards, synths), with "her own live shows" and with other artists (Morgan, Fluon, Quintorigo, etc.), and as Dj whose selections are characterized by audible sounds and not, danceable rhythms and melancholy dark, trying to catalyze more restless and rebellious souls, leading them unknowingly to their creatively crazy world.
She conducts her own format "Shine in Venice" on OlzeTv powered by Sky and the radio program "Moonshine" on Radio Vanessa (Venice).
In 2011, in collaboration with her artistic producer and arranger Filippo Scrimizzi, she starts the production of her first album, a music project in English characterized by rock, dark, industrial, trip-hop, metal and new wave influences, in which Numa Echos is singer, keyboard player, lyricist and co-composer of music.
In October 2011 one of her tracks "Immaterial Needs" was selected by www.wiple.com website as the most interesting song among more than 15.000 proposals and as sound track of the website of Banca Intesa.
In spring 2010, 2012 and 2014 she was also selected as semi-finalist of the Arezzo Wave Festival competition .
The first official Lp "Shady World" , published by Valery Records in Autumn 2016, has been completely written and produced by Numa Echos and Filippo Scrimizzi. Recorded and mixed at "Fonologie Monzesi" studios, "Frequenze Studio" and "Sub 711″ between Monza and Milano, by Massimo Faggioni, Matteo Agosti, Filippo Scrimizzi and Numa Echos, it was mastered by Giovanni Versari at La Maestà Mastering in Faenza (Muse etc.)
The first videoclips of " Shady World " are :
Insanity – directed by Fabrizio Rossetti ( Tre metri sopra il cielo, Questo piccolo grande amore, Ho voglia di te etc.) – Girl In Suitcase Indie Film & Music Production
Is But A Shady World – directed by Max Valerio – Cinetika Studio
Numa Echos plays live with guitar bass player Andrea Celato, guitar player Pietro Dalmasso and drummer Francesco Rivabene.
Since June 2017, Numa Echos is an official member of the band "Double Bass of Death" together with Viktor, a poly artist who, under different pseudonyms or with the real name, is the author of 13 books (4 of which translated into different languages), composer and producer of 15 CD of "Poetry in Music", screenwriter and composer of 7 independent films (including 3 considered "Film of National Cultural Interest" by the Ministry of Cultural Heritage) and founder of several musical bands (Les Fleurs du Mal, MAB, Beer Killer, etc.) with participation in numerous shows both in Italy and abroad, also representing Italian punk-hardcore in foreign festivals. 
"Double Bass of Death" is the result of numerous artistic-musical paths; it is a musical project whose authorial content will constantly allow the creation of audio-visual material. The title of the album released on June 22nd, 2018 is "Faq The System" (Atlantis / The Saifam Group) Concept Album in which the system is questioned. The video of the single "Art" taken from the album has been chosen as "Best Video 2018" in the "underground" section on www.olzemusic.com.
The second album "RIMES vs CAGES" has been released on 17th Jenuary, 2020 (The Saifam Group) and available on all digital stores.
The video of the first single "Empty" is a "metal" reinterpretation of the song extracted from the album "Shady World" by Numa Echos (Valery Records, 2016).