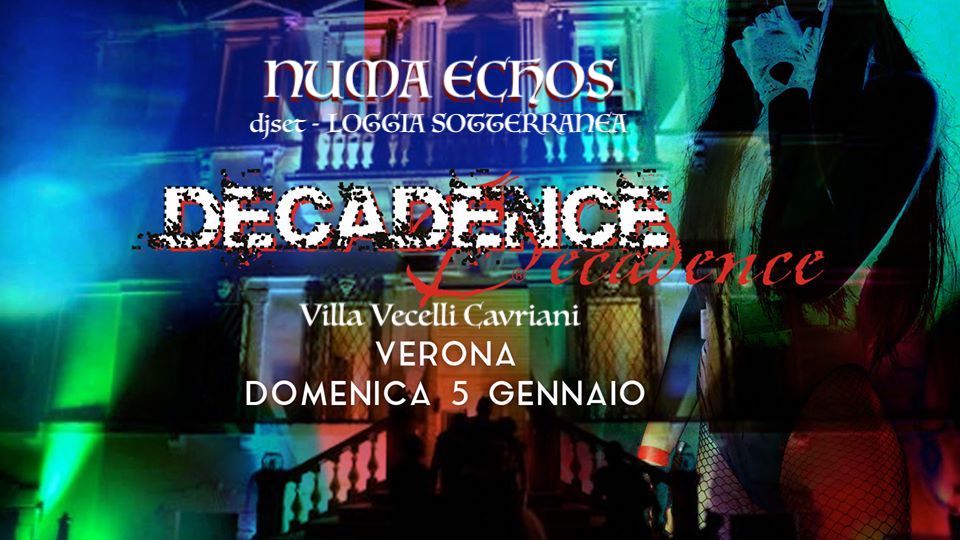 ->EVENTO PRIVATO <-
Domenica 5 Gennaio 2020 – h. 22.00 – 06.00
⚜DECADENCE in Villa | Verona ⚜
Immersa in un clima di altri tempi, la Villa è un'elegante dimora storica di origine seicentesca.
Nella seconda metà del Settecento la lVilla viene rilevata dalla proprietà precedente, fin da subito volle dar vita ad un edificio fastoso che non avesse nulla da invidiare alle ville del tempo. Durante la dominazione Austriaca, l'edificio fu adibito prima a caserma e successivamente ad ospedale. La Villa fu abbandonata al più totale degrado, solo con gli imponenti lavori di restauro voluti dal nuovo proprietario nel 2017, ritorna al suo originario splendore.
| 12 AREAS | LIVE ENTERTAINMENTS | RARE VIDEOS | ART EXPO |INTERNATIONAL GUESTS | BOUDOIR & RELAXING AREA | SHIBARI SHOWS | POETRY | PLAY AREA | TAROT READING | FIRE-EATER & JUGGLERS SHOW |ART PERFORMANCES | MAKE UP AREA |
♛SALONE BIANCO ♛
Marco Archi – live violin
♛ LOGGIA SOTTERANEA ♛
MUSICHE D'APERTURA
classical and baroque music
goth, wave & '80's music
VALENTINE [decadence]
EMY [night breeze]
WHIPPING BOY [dark'n'wave]
PHERDI [dance of youth]
NUMA ECHOS
♛ SALONE NERO ♛
INTRO: darkambient, folk and ethereal music
hang drum live & body modification- LUNAKYA | VODEVIL
electro, industrial, ebm
TYING TIFFANY [decadence]
JEEZ KULT [das lust]
THE DROP DJ
GABRIEL MANN
♛ DUNGEON SOTTERRANEO ♛
bdsm | equipments | shows | latex
Operators:
KRAIAN VON SWITCH [Decadence]
RUBBERSTAR [Decadence]
CELEBRITY SKIN & VLADI – dungeon door selection
ALE GIACON [decadence]
FRANCO GILLI [coven]
MATTIA COVEN [coven]
♛ SALA DELLE DIVINITA' ♛
worship sessions & equipment
mistress – t.b.a
♛ BOUDOIR & RELAXING AREA ♛
FEDERICA CELEBRITY [Decadence]
ANDREA J'ADORE [Decadence]
♛PERFORMANCES & ENTERTAINMENTS ♛
SHIBARi SHOW – Jo Darkrope
TRAMPLING – Ariel
LIQUOR SHOTS – Maddalena Genta
USHER – Morgana Desdemona
LOBBY MANAGER – Valeria Casini
TAROT READING – Manuela Rossi
DOOR SELECTION – Erykah Eka
GUEST LIST – Emily
PHOTO REPORTERS
Official photographer – t.b.a
NO PHOTOS – NO USE OF MOBILE PHONES!
AUTHORIZED PHOTOGRAPHERS ONLY!
DOOR SELECTION – DRESSCODE OBBLIGATORIO
Evento con selezione all'ingresso, il pubblico stesso è protagonista dell'evento. Sarà possibile usufruire di guardaroba.
Mood/ abbigliamento consigliato: gothic baroque newromantic dandy blackelegant moulinrouge esoteric steampunk freak fantasy fetish postpunk perv glam latex bdsm rubber bears bodyart rockabilly drag trav real80 bizzarre burlesque raver bbw animalia peluche enlightened cyberfreak
NO CASUAL STREET WEAR!
▪️TUTTE LE AREE SARANO COLLEGATE DA ASCENSORE E COMODAMENTE ACCESSIBILI
⚜⚜⚜⚜
PRACTICAL INFORMATION
Villa Vecelli Cavriani
Via Caterina Bon Brenzoni, 1
37060 Mozzecane – Verona (VR)
📍Prenotazione stanze convenzionate Decadence
✆ 0456340820
infoline
✆ +393472855823 +39 3387736242
www.decadence.cc
☛ Ingresso riservato ai +18
Link Evento: https://www.facebook.com/events/604038680370411/